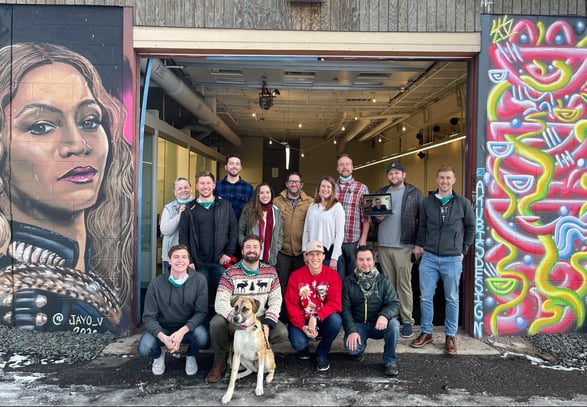 Being a rental property owner or a renter doesn't have to be painful.
Every small time rental property owner (all 20 million of us across the US) discovers early on that self-managing a rental property can be very rewarding but also demands an extraordinary amount of time and can be full of headaches—vacancy, late payments, late-night calls from residents, big repairs, etc.
Landlords could hire a property manager, but 70% (14 million) don't. Landlords often tell us that property managers increasingly cannot meet their expectations after being spoiled by amazing experiences with companies like Uber, Amazon, DoorDash, Airbnb, etc.
Moreover, property managers can be expensive, and don't always have aligned incentives with homeowners—finding quality property managers (which do exist) isn't automatic.
These challenges existed before the pandemic and COVID only exacerbated them while adding new challenges like delinquency spikes, deflationary rent prices in many areas, urban flight, and a lack of safety net for small-time landlords.
Renting is no better for tenants, either. If you've ever been a renter—and that includes almost all of us—you probably haven't been so much as thanked for taking good care of a property or paying your rent on time without issue.
The situation is less than ideal all around, but it doesn't have to be.
We believe there's a better way for everyone involved: landlords, residents, real estate agents, and even property managers—that's why PJ and I founded Nomad.
Nomad eliminates friction from the long-term rental experience to make it (dare I say, pleasant?) for all parties involved. That's quite the claim, we know, but we have the platform to back it up.
How do we do it, and how did we end up here? Good questions.
First the Roots, then the Tree
It all started when PJ received his 1st bonus. He was straight out of college, and he immediately invested that check to help with a down payment on a rental property that he rented to grad students at the University of Denver. He turned one rental property into two, and then three, and so on—however, career aspirations led him to pack his bags and head to the Bay Area.
But what to do about all his rental properties?
PJ's first property
Self-managing was out of the question, and PJ couldn't find a property manager he trusted—so he started his own property management company. A couple of years later, PJ landed a job launching and managing new markets at Opendoor, which got him thinking, "Why couldn't I offer Opendoor's certainty and convenience to rental property owners like me?"
Back in Colorado, I became an "accidental landlord". My family and I moved out of the first home we bought, and I decided to rent out the property rather than sell it. Managing the property while balancing my full-time tech job and family obligations proved challenging, but there wasn't another acceptable option—I knew nobody else would work as hard as I would to maximize my rental income.
PJ and I ended up meeting during this time—we were both Denver-natives, proud graduates of CU-Boulder and Berekely-Haas, and shared an interest in how technology was transforming real estate as we knew it. Over subsequent beers and coffees we asked ourselves "could we improve the property owner-resident experience, offer a degree of ease and certainty to landlords, and unlock economic opportunity for everyone in the long-term rental community?"
Founders: PJ & Matt
With PJ's real estate operations + technology background and my experience in scaling tech companies and go-to-market strategy at SendGrid and Twilio, the roots for what is now Nomad began to grow.
Collaboration, Validation, and then Execution
We collaborated and created the premise behind Nomad—property owners could receive guaranteed rent for two years while we do all the nitty-gritty work. One-off properties made the numbers difficult to justify, but at scale, there was limitless opportunity. We could share the benefits of our scale with small-time landlords.
It'd require the perfect combination of real estate management, data science, and a technology platform, but it was possible.
But was this something people even wanted? Or were they completely satisfied with their current options?
Before we dug too deep into the rabbit hole, we decided to 'get out of the building' as Steve Blank taught us, and speak with customers. We had each done this before with early-stage startups, but this time was different. When we shared our idea with the very first landlord we spoke with, she asked to become a customer immediately—that's when we knew we were on to something.
As we refined the concept we realized we'd have to raise funds from angels and VCs to build the business we wanted. Everything was on track for this dream story.
However, COVID-19 had other plans. Global economic uncertainty and US lockdowns made our timing to fundraise disastrous. We reached out to so many investors and slogged through scores of investor meetings during Denver's lockdown.
It was painful.
Investors were skittish—especially for a concept like Nomad during the employment upheaval of the time. With some grit and some luck, we found and partnered with a truly amazing group of investors whom we are incredibly grateful for. We knew that something like Nomad had to exist and we believed we were the people that should make it so.
Where We're at Now
Just 6 months after our fundraise, we're humbled yet proud of all our team of Nomads have accomplished—and we're just getting started. It's Day 1 at Nomad.
12 Nomads we love to work with
Over 100 happy customers we love to serve and that love the certainty & ease Nomad provides
Over 1,000 guaranteed rent offer requests
Growing momentum and growth
7-figure GMV (gross rent)
100% on-time payments to our customers
An amazing set of investors we're thrilled to have on our team (shout out to Kickstart, Peterson Ventures, and Range!)
One of our amazing customers, Stefan
And Where We're Going
We have big plans for Nomad. Our north star is to unlock economic opportunity for everyone in the long-term rental community. We're started with our rental income maximizing guaranteed rent products for rental property owners near Denver, Colorado.
You'll see us expanding into other markets, expanding our product offering to unlock economic opportunity for residents of Nomad properties and our partners, and doing everything we can to eliminate friction from the long-term rental experience to make it better for everyone involved.
We're excited to work in our community to create a better future!
A few Nomads in our colorful office in the RiNo area of Denver
Early customer with inspirational story—ask us about it sometime
Early customer with inspirational story—ask us about it sometime