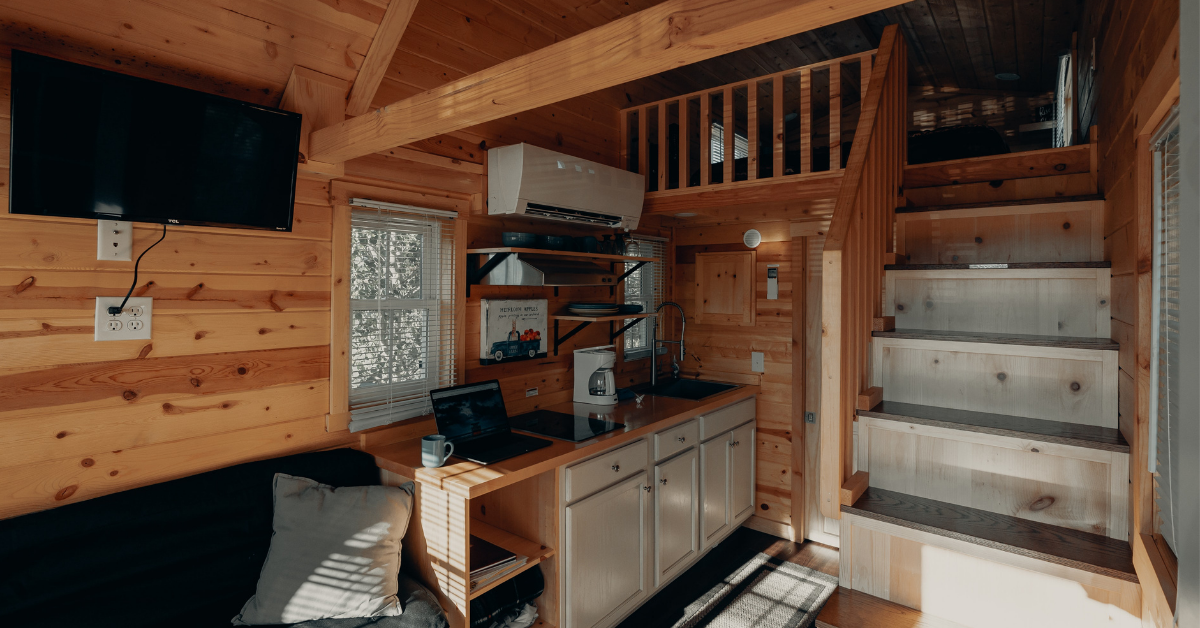 Visit Zillow and start browsing your rental options. What do you see? Likely, lots of large apartment complexes that seem nearly identical. While there's nothing inherently wrong with this (many of us have lived in these places ourselves), they are not for everyone.
There are other options if you like to live outside the box (while still living in a comfy, clean box).
Your new rental home doesn't need to look like every other house in the suburbs. Whether you're a landlord or a renter, your property can be full of uniqueness, character, and imperfections while still being clean, safe, functional, and perfect in its own way.
Get the Best of Both Worlds With Nomad
One of the amazing things about Nomad is that we work with a wide variety of rental properties. As long as it's functional, safe, clean, and presented exactly as advertised, it has a place on the rental market.
You can find a rental that you love without having it look like everyone else's. You can find strangeness, beauty, peculiarities, eccentricity, and anomalies to call your home, and you don't have to sacrifice on the fundamentals.
That's not always the case, though. Here's what you can expect with your different renting options:
Rent from a Managed Apartment Complex
When you rent from a large apartment complex, you'll get to choose from various options that range in quality. You can go small and simple or large and elegant, and you'll pay accordingly. Essentially, you get what you pay for.
You may share common amenities with all the residents and their guests in the complex. And, you often have zero expectation to do the smallest of things including changing your own lightbulbs or fridge water filters. Some residents love this arrangement.
However, most homes look exactly alike. You're usually paying for a difference in size, bedrooms, and bathrooms—not character, history, or uniqueness. And you often pay high prices to have everything taken care of for you.
Rent from an Individual Landlord
When you rent from an individual landlord, you're never quite sure what you'll get. You might find a home you love that's full of style and personality, but the quality and price of that rental are subject to the landlord.
The owner of the rental might take extensive pride in maintaining the property, or they may be difficult to get in touch with or work with when various repair and maintenance issues come up. They may ask you to drop off a check (does anyone even have these anymore?) each month or they may let you set up automatic payments online.
You may find that your eccentric dream home isn't up to code, and it might have oddities that create inconveniences or safety issues. It's an adventure shopping for these kinds of rental units. You have the potential for high rewards, but there's always an element of risk.
Rent from Nomad
Then, you have Nomad, which is a combination of the two experiences. We'll only present you with homes (single-family, townhomes, condos) that are safe, reliable, functional, and as marketed.
However, Nomad homes are full of charm and style. You'll find minor imperfections here or there, and that's what makes them curiously the perfect home for you.
With Nomad, you'll also have varying levels of engagement regarding routine maintenance (depending on the home). We'll ask you to change light bulbs or fridge water filters, change furnace filters on a schedule to keep your air clean and the furnace working optimally, use a search engine to find your regular trash pickup schedule, and pull weeds occasionally if applicable. This isn't for everyone, but it is part of enjoying the perks of our unique portfolio of homes.
And you'll get access to the modern experience you expect with online rent payments, an online maintenance portal, and the exclusive benefits of being part of the Nomad's network.
You'll get the market rates, and you'll get exactly what you pay for. We keep the excitement in your rental shopping journey, but we eliminate the risk.
You're welcome.
For All You Landlords Out There
You don't need a perfect home to list it with Nomad. There are renters out there looking for a home that's full of history, flaws, and laughable quirks—not everyone wants a cookie-cutter apartment.
Sure, your home will need to be safe, operational, and advertised accurately—but that's really the baseline. Just because your home is unique doesn't mean it's any less valuable than that of your neighbors.
Take a Look at What's Available
Renters, take a look at what's available in Colorado and Arizona. As soon as you visit the listings page, you'll notice what we're talking about: character.
All our listings are full of personality and their own unique style. Yet, rest assured, they're all clean and functional—and you'll find they're exactly as advertised.
Find your dream home today.